Supporting individuals through the journey of aging.
Every journey is unique.  Count on Aging Ahead to support yours.
Over 250 instructional videos to help improve safety and function in your home for a loved one.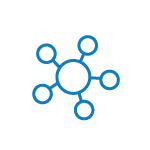 We are proud to announce Chief Executive Officer, Lisa Knoll, was honored with the "Trailblazer in Aging Award for Innovation" by the NCOA.
Aging Ahead is committed to making diversity and inclusion a part of our organization.
What We Do
We support older adults and their caregivers through community activities, meals, and resources.
Aging Ahead Flu and COVID Vaccine Events
More information on the dates, sign up deadline and location.
Sign Up Today!
Upcoming Events
10:00 am – 11:00 am
Location: Virtual Presentation Presentation Description: These are the intended objectives of the presentation. 1. Understand the reasons behind vaccine hesitancy among older adults, including historical and cultural factors, distrust in the healthcare system, and misinformation. 2. Identify practical strategies to promote vaccine acceptance among older adults, such as targeted communication, community outreach, and partnering with trusted healthcare…
Location: Grant's View Library – MC Bride and Son Homes, 9700 Musick Ave, St. Louis, MO 63123 Presentation Description: Learn what home health care is, knowing when Medicare will cover it, understanding what it means to be homebound and preventing, detecting and reporting potential Medicare home health fraud and abuse. Registration: Please REGISTER BELOW or call the Library at (314) 994-3300….
Your Voice Matters!
Please share your thoughts on supports and services to help us adapt, enhance, and expand to meet the needs of older adults! We WANT to hear from you!
Fill Out Survey
Discover the many ways we are impacting our Aging Ahead community.
Established under the Older Americans Act in 1973, Aging Ahead, is one of ten Area Agencies on Aging, serving older adults and their caregivers in St Charles, St Louis, Franklin and Jefferson counties.  Our mission is to support them through the journey of aging through a variety of programs and services..  We are asking for…
If you get an unexpected call saying you owe money for medical services, be wary. Reports of phony medical bills and collection departments are on the rise. Receiving a call for a medical bill you don't remember and needs to be paid immediately or you'll be served has red flags written all over it. The…
Get Your Shot of Health. Shot of Hope. Aging Ahead is hosting Flu and Covid vaccination events at our Senior Centers and Community Locations. Registration is required! Please call the center to register prior to the deadline listed below. If you have questions, please contact the center.